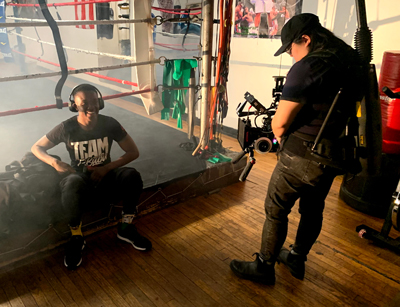 Olay is proud to be back for a second year with P&G as a sponsor of the Queen Collective to accelerate gender and racial equality behind the camera. Olay applauds the fearless filmmakers of 'Gloves Off' for shattering the norms and diversifying the film industry. Now, more than ever we need stories like that of Tiara Brown. She is a true role model and Olay shares her mission to help the hopeless find hope while changing perceptions to overcome bias to achieve her dreams. Check out the world premiere of 'Gloves Off' on BET Saturday, June 13 at 9pm.
About the Film:
Gloves Off follows the story of Tiara Brown, an undefeated boxing champion and the first Black woman to be Washington, D.C.'s Officer of the Year. By day, she forges new ways to serve her community and by night, she laces up and fights to make a name for herself in the boxing ring. As Tiara works to excel in two worlds where she has often been told she doesn't belong, she perseveres each day, not only for herself but for everyone like her.
About the Co-Director
About the Queen Collective:
The Queen Collective is a short film mentoring and development program that P&G created in partnership with Queen Latifah and Tribeca Studios. The initiative aims to drive equality and inclusion representation behind the camera by opening doors for the next generation of multicultural women directors whose voices are crucial in diversifying the film and advertising industry.
The Queen Collective is committed to driving authentic, accurate and positive portrayals of women in media while fueling the creative pipeline of women of color directors. The newest set of Queen Collective films will premiere in June 2020.
000756091981821|00075609196393|00075609198137
read more >