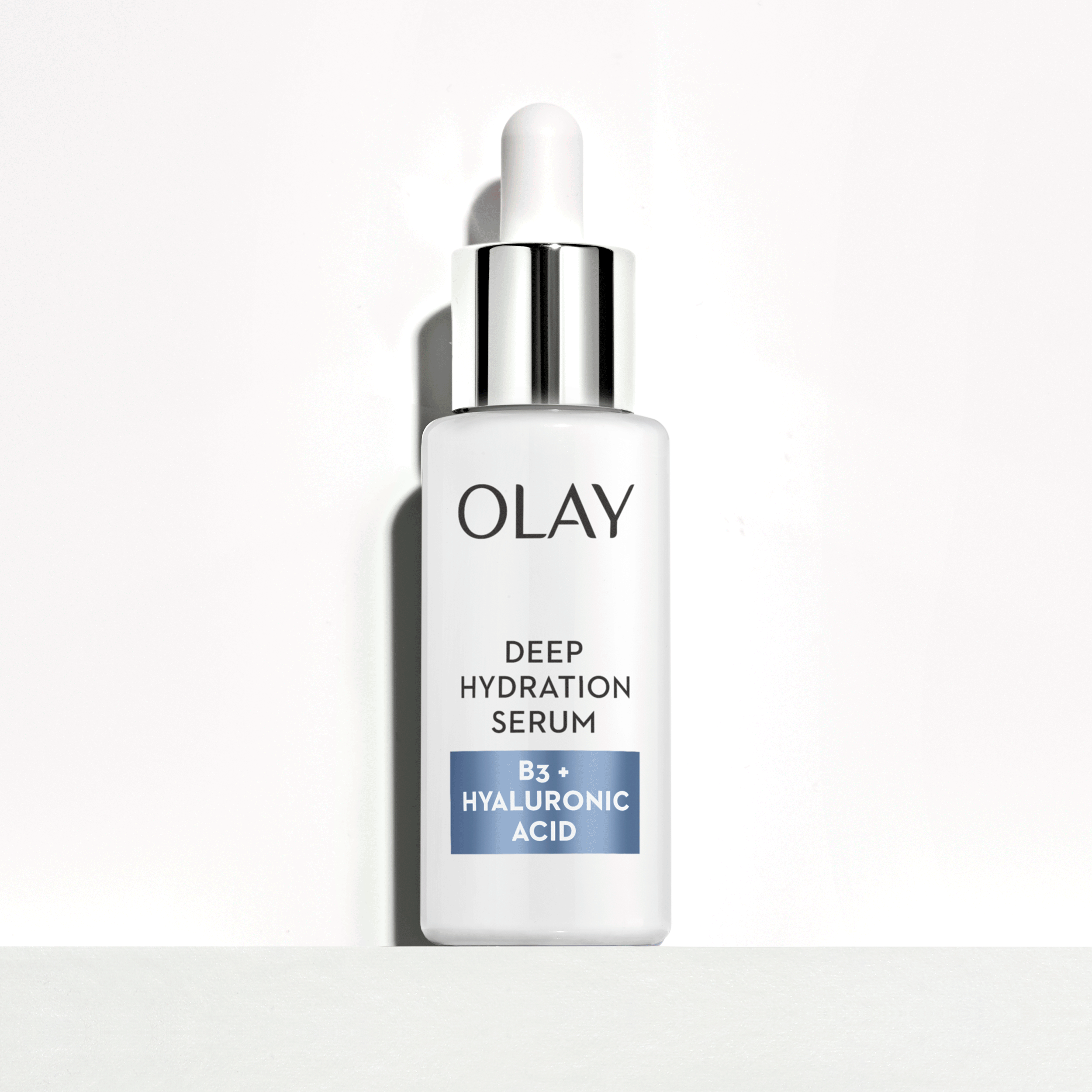 Niacina-what?
Almost anyone can achieve healthy, radiant skin in the right environment. Eating vitamin-rich foods, drinking plenty of water, and using the right skin care products for you all have an effect on your complexion. At OLAY, we can't help with diet and hydration, but no one's better than our beauty scientists at distilling powerhouse ingredients and crafting them into their most effective formulas – which is where our favorite ingredient, B3, comes in. There's no such thing as a skin miracle, but B3 comes close.
Also referred to as Niacinamide, B3 is one of the 13 essential ingredients your body needs to look healthy and can be found in kale, avocados, almonds, mushrooms, and other vitamin-rich foods. A B3 rich diet can lead to lower cholesterol, higher brain function, and clear, radiant skin. And eating it's not the only way to get your fix: you can apply our B3 rich products directly to your face to reap astonishing, multitasking benefits. B3 doesn't just nourish your skin, it actively protects it. Great for all skin types (dry, oily, even sensitive), it improves your moisture barrier, reduces the appearance of pores, fades dark spots, and regenerates your skin's surface to reduce the appearance of fine lines and wrinkles.
At OLAY, we're serious about the science of great skin, which is why our products can contain as much B3 in a single application as 50 cups of kale. Read on to learn more.
The Multi-Tasker
B3's been called a super-nutrient and the "fountain of youth" for good reason. Unlike other vitamins, it doesn't just improve your appearance: it actually helps at a cellular level to improve skin health and resilience. It sinks deep into your skin and renews your complexion from within. Years of scientific studies at our labs have shown the multi-tasking benefits of B3:
Increases Hydration: Stronger skin barrier means skin holds onto more moisture.  It doesn't escape out of the skin.  This is like water in a bucket.  If the bucket is in good condition, it holds water, but if there is a hole it will leak it out.  B3 helps repair those holes and keep moisture in the skin.
Visibly Reduces Redness and Blotchiness: When your skin's barrier is weak, irritants can get in your skin that cause redness.  B3's barrier strengthening properties help keep irritants away which prevents irritation from occurring and causing redness.
Visibly Improves Fine Lines and Wrinkles: Fine lines and wrinkles show up when skin's support structure or barrier is weak.  Just like a floor can sag when there is not support, your skin also needs the support to remain smooth.  B3's barrier strengthening super power helps reduce the appearance of fine lines and wrinkles.
Visibly Reduces Spots: Age and acne spots are often caused by skin irritation.   B3's ability to improve skin barrier will reduce the skin irritation which will help prevent age spots.
Visibly Reduces Shine: B3 does this by reducing sebum found in the skin's surface.  Sebum is an oil that gives your skin a shiny appearance.
Visibly Improves Skin's Texture and Pore Size: Shiny skin reflects light in a way that makes pores more visible and skin's uneven texture more noticeable. By reducing sebum, skin looks less shiny, pores less visible, and skin texture imperfections less noticeable.
Increases Skin's Exfoliation: Skin cells naturally turn over every 28 days. In order for your skin to properly turn over or exfoliate itself, it need the right amount of hydration.  B3's barrier strengthening and hydrating powers really help the skin do it's natural processes better as well!
---
25 Years of B3
Many brands have recognized the effectiveness of B3 and have started to include it in their skin care formulas. But no one else has spent the time, money, or labor that we have to make sure their B3 is as pure, authentic, and as effectively able to penetrate the skin barrier. We're all about getting the best products in your hands which is why our cutting-edge OLAY laboratories are some of the best in the world.
In the formula:
OLAY's beauty scientists have been studying B3 for over 25 years. We've taken the science of skin to a molecular level so we're on the cutting edge of how to prevent skin damage from stress and aging. Our pharmaceutical screening system can evaluate B3 formulas in just a few days. This has helped us discover which ingredients combine with this super nutrient to make it as powerful as possible. We've learned the secret to stabilizing B3 - a notoriously unstable ingredient – so that every pump of product gives you a consistent dose. This is why our proven formulas penetrate deep and work effectively. We have over 100 patents on B3 alone!
In the skin:
Our patented B3 formulas penetrate an astonishing 10 layers deep into your skin where they begin the process of turning skin cells over. The old cells are sloughed away, and new cells come to the surface resulting in visibly healthy, smooth, bright, tight, hydrated skin. Cellular regeneration occurs naturally in your skin every 28 days, which is why it's important to consistently use a product for that period of time to really see the benefits.
A Deep Dive
Your skin is a barrier against the outside world, but it often can't tell the difference between the good (creams, serums, lotions) or bad (pollutants and harmful chemicals). So it keeps everything out, which means you won't be getting the benefits you want.
While many creams have B3 in them, if they're not formulated correctly, the B3 just sits on the surface of the skin where it won't be able to signal the regenerative process. The best B3 creams, like ours, are formulated with ingredients that help it bypass your skin barrier and penetrate deeply into your skin. We pair our B3 with exclusive peptides and other patented ingredients to make sure our B3 is able to do its astonishing work.
Want to read more about Vitamin B3? Click here
Take the 28 Day Challenge
Every 28 days, your skin renews itself by pushing old skins cells out to make room for new ones. Your body does this to keep wounds, germs, and other unwanted pollution out while retaining good elements like water. As a side effect, these new cells make your skin feel and look smooth, luminous, and firm – all on its own. OLAY's B3 products are crafted to supercharge this process, so while you'll see great results from day 1, after a 28 day cycle you'll experience the full impact of our ingredients. You will be able to see our B3 in action, transforming the texture of your skin to appear softer, healthier, and more youthful.
But don't just take our word for it, see the astonishing B3 benefits for yourself. Almost all of our products include B3, but if you want the highest doses we offer, try our Regenerist and Whips lines.
If you're unsure which products are right for you, CLICK HERE to get a personalized OLAY regimen from OLAY Skin Advisor!
read more >