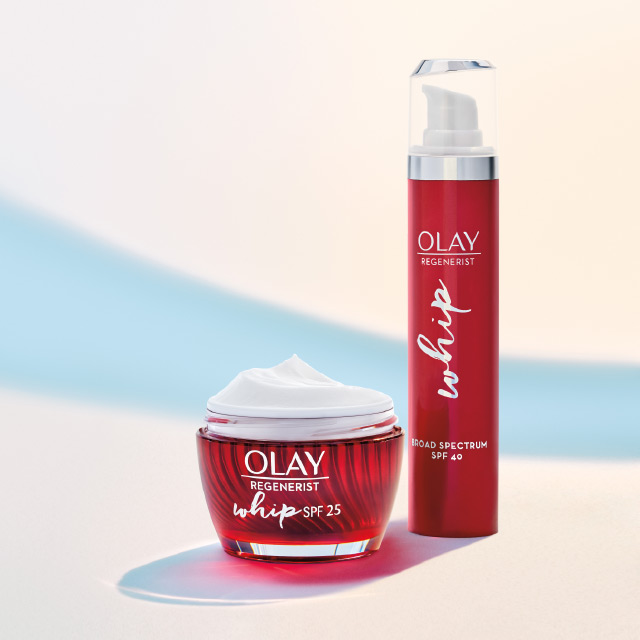 It's understandable if you don't like wearing sunscreen. It can feel heavy and thick, and the greasier formulas can ruin your makeup. But the beauty experts at OLAY are dedicated to protecting you from the sun without feeling like you're wearing sunscreen. OLAY's sunscreens and lotions with SPF are carefully crafted to keep your skin hydrated while protecting you from those harsh summer rays. Now you can enjoy the sun – period.
Here are six facts that might surprise you about the sun and why you need to wear sunscreen.
DID YOU KNOW?
Your skin is exposed to the sun's harmful UV rays more than you may think
Most people seriously underestimate the amount of sun exposure they get. You might not be thinking it, but if you're sitting next to a window at work or making a five-minute coffee run on cloudy days, that sun's eventually going to make itself known in your skin. We call this the sun's invisible damage.
Ever notice the left side of someone's face tends to look just a tiny bit droopier than the right? That's the driver's side, where the sun reaches skin through the window. A study in the Journal of the American Academy of Dermatology revealed that nearly 53 percent of skin cancers in the US occur on the left of the body. According to the Skin Cancer Foundation, although car windshields are partially treated to filter out UVA, the side windows let in about 63 percent of the sun's UVA radiation and rear windows are completely unprotected, leaving back seat passengers exposed. That's why it's important to wear broad-spectrum SPF 15 or higher each and every day. Hint: you can also invest in transparent window film screens to screen out almost 100 percent of UVB and UVA without reducing visibility.
The typical sun exposure for most women is about 18 hours a week, indoor and out. That means 1 week of incidental sun exposure = 1 full day at the beach. Yikes!
DID YOU KNOW?
SPF labeled "broad-spectrum" protects you from both UVA and UVB rays.
Both types are damaging to your skin, and the damage adds up over a lifetime. Years of sun exposure, whether it's UVA or UVB, can lead to premature signs of aging and possible skin cancer, so you should always choose a broad-spectrum sun lotion.
The sun produces ultraviolet radiation, called UVR. There are 3 types of UVR, distinguished by their wavelength - UVA, UVB, and UVC.
UVA radiation penetrates more deeply than UVB radiation. This means that the damage from UVA occurs deep into your skin layers, which is where the serious signs of premature aging happen. UVA light is not at all absorbed by the ozone layer.
UVB radiation doesn't penetrate as deep as UVA, but since UVB rays have a higher energy, they are the main cause of sunburn and skin cancer. UVB radiation is partially absorbed by the ozone layer.
UVC radiation from the sun is (thankfully) nothing to worry about because it is completely absorbed by the ozone layer.
Broad-spectrum: The term "broad-spectrum" means that both UVA and UVB rays are absorbed or blocked. This is why you should always pick a lotion that is labeled "broad-spectrum" protection.
SPF: The acronym "SPF" stands for Sun Protection Factor. Easy, right? Not really. The numbers related to SPF can be confusing because they're not linear (i.e. SPF 50 isn't twice as effective as SPF 25). Instead, the SPF number is a representation of a fraction of the radiation that is transmitted, and really says more about how much longer it takes your skin to sunburn while wearing it.
This chart shows the protection levels from SPF 0-50.
The bottom line is, you need at least SPF 15 for protection, and SPF 30 on more sun-heavy days. Moving up to SPF 50 will block out only 1% more of the sun's rays than SPF 30.
Keep in in mind that applying the correct amount is key to getting the full sun protection. Follow instructions for reapplication on the package, and remember most Facial SPF products aren't waterproof, so be sure to reapply even more frequently if you're swimming or sweating.
DID YOU KNOW?
All skin tones need protection from the sun, even the darkest tones, but the lighter your skin is, the faster it burns.
If you're very fair-skinned, you're more prone to sunburn so you should always apply sunscreen before sun exposure and keep reapplying throughout the day.
But you ladies (and gentlemen) with darker skin also need to be using SPF. Because your darker skin is more resistant to obvious signs of damage like sunburn, you might not realize the extent of damage you're getting beneath the surface of your skin, which could include skin cancer. If you have a darker skin, we highly recommend taking a serious look at the following articlefrom the Skin Cancer Foundation.
DID YOU KNOW?
SPF helps you look younger. Period.
The sun is the #1 cause of visible signs of aging.
Daily UV exposure causes invisible micro-damage to the skin, and that damage builds overtime.As little as five minutes in the sun can cause damage deep in your skin that lasts a lifetime. You won't see the effects immediately (once the initial redness wears off, if you were burned) – it could be years or even decades before the full extent of the damage is revealed.
Below is a picture from an identical twin study, where each twin's skin was evaluated and photographed by a high-resolution camera. One twin wore sunscreen daily, the other didn't. Can you see the difference in skin appearance, firmness and apparent age between these twins?
In short, you might not realize just how much sun you're getting, and the good news is that you can wear a broad-spectrum SPF 15 or greater daily to help prevent further damage.
DID YOU KNOW?
Makeup with SPF may not give you enough sun protection.
Some makeup comes with SPF. Makeup with SPF is helpful, but women often don't apply enough. The amount of SPF you should apply on your face is about the size of a nickel, so if you use less makeup than that, you won't be getting full sun protection.
For example, if your foundation has SPF 15 but you only use a dime-sized amount, you'll have protection of about SPF 4. Not enough! So we recommend you apply a makeup-friendly SPF beneath your foundation, like OLAY Sun Face Sunscreen + Makeup Primer.
DID YOU KNOW?
OLAY was the first beauty brand to make daily facial moisturizers with SPF.
OLAY has spent over 28 years researching and advancing sunscreen formulas. And the beauty experts have spent the past 7 years reformulating their favorite sun lotions so that they not only protect, but keep you looking soft and matte, not greasy!
When it comes down to it, if you don't wear sunscreen, you're not alone. Only 18% of women use a daily sunscreen throughout the year. Even in the summer, only 58% of women use sunscreen daily, and 26% never use sunscreen. And the number one reason is – many people feel that sunscreen feels sticky, greasy, or just generally unpleasant on their skin. They know they're taking a hit to their future skin and health, but it's worth it not to get that oily feel.
OLAY understands this and has formulated a range of products that you'll be shocked to discover contain sunscreen because they feel so good. Here are our favorite SPF formulas, and a bit of information to help you decide which might be best for you!
If you're looking for: a powerful anti-aging SPF moisturizer without the heaviness, then try: Regenerist Whip Moisturizer with SPF 25
Great for:Anyone who wants to do serious youth-preserving double-duty with SPF, B3 & Peptides
---
If you're looking for: a nourishing, light as air, matte finish moisturizer with SPF, then try: Total Effects Whip Moisturizer with SPF 25. We have it without fragrance too so just hit the link and click the drop down arrow to find it.
Great for: Anyone whose skin needs some serious TLC along with sun protection
---
If you're looking for:a simple, non-greasy, lasting shine-control sunscreen, then try: Sun Face Sunscreen + Shine Control, SPF 35
Great for: Anyone who's active and outdoorsy (hint: put it in your pocket for outdoor sports and remember to reapply every two hours!)
---
If you're looking for:a simple, light sunscreen that'll go great under makeup, then try: Sun Face Sunscreen + Makeup Primer, SPF 35
Great for: Anyone who wants to add a sunscreen under their makeup foundation for additional sun protection
---
If you're looking for: a lotion with SPF that is designed or sensitive skin, then try: Complete Lotion Moisturizer with SPF 15, Sensitive
Great for: Anyone who has sensitive skin or has had trouble with sunscreens in the past
So now that you're armed with information (and SPF), feel free to soak up some sun with OLAY'S favorite sunscreens!
---
read more >