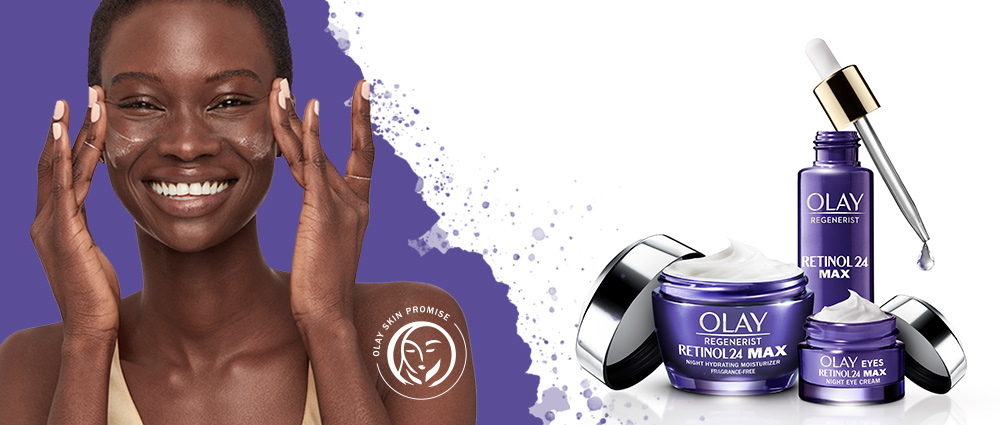 Dull skin dragging down your glow? Get your skin ready for its max glowup with Retinol24 MAX. These formulas are designed with 20% more Retinol24 Hydrating Complex* to give you a bright, radiant and hydrated complexion no matter the season or weather. Learn all about our lineup of Retinol24 MAX products below.
*vs. base Retinol24
How Retinol24 Helps Your Skin Glow
You know how Retinol24 helps smooth wrinkles, but how does it make your skin look and feel more radiant? It's all about the skin cell turnover. Retinoids encourage your skin to turn over old, dull cells faster, pushing forward new, brighter cells. This gives your skin the overall appearance of being brighter and more youthful.
But it's important to pair your retinol with hydration. If you're using a retinoid formula without hydrators, it may give your skin a red, dry appearance – not all what we're going for! That's why we formulated Retinol24 MAX with our maximum concentration of hydrators. This helps strengthen your skin and leave it feeling moisturized while you get all those brightening benefits too.
The Retinol24 MAX Family
Looking to wake up with a radiant glow? Try a new maxed-out nighttime routine with any one of our Retinol24 MAX products
Cleanse
At night, cleanse your face of dirt, oil, urban pollution with the cleanser of your choice. If you use makeup, you may want to consider using a makeup remover as well – just to make sure your face is fully makeup free and prepped to absorb your Retinol24 MAX products.
Treat
Massage Regenerist Retinol24 MAX Serum into your cleansed, dry face. This lightweight formula is packed with Retinol24's maximum concentration of hydrators to help you wake to radiant and renewed skin.
Eyes
Gently pat Regenerist Retinol24 MAX Eye Cream into the delicate skin around your eye. Overnight, the hydrators and other ingredients go to work so you can wake to smoother, firmer and brighter undereye skin.
Moisturize
Use Regenerist Retinol24 MAX Night Face Moisturizer as the final step in your routine. This formula visibly brightens, smooths and evens your skin tone while you sleep so you'll wake to radiant, even and hydrated skin.
So if you're interested in giving your skincare routine a serious glowup, try a product from our Retinol24 MAX line. You can mix-and-match any of these products into your routine for a total skin transformation.
read more >